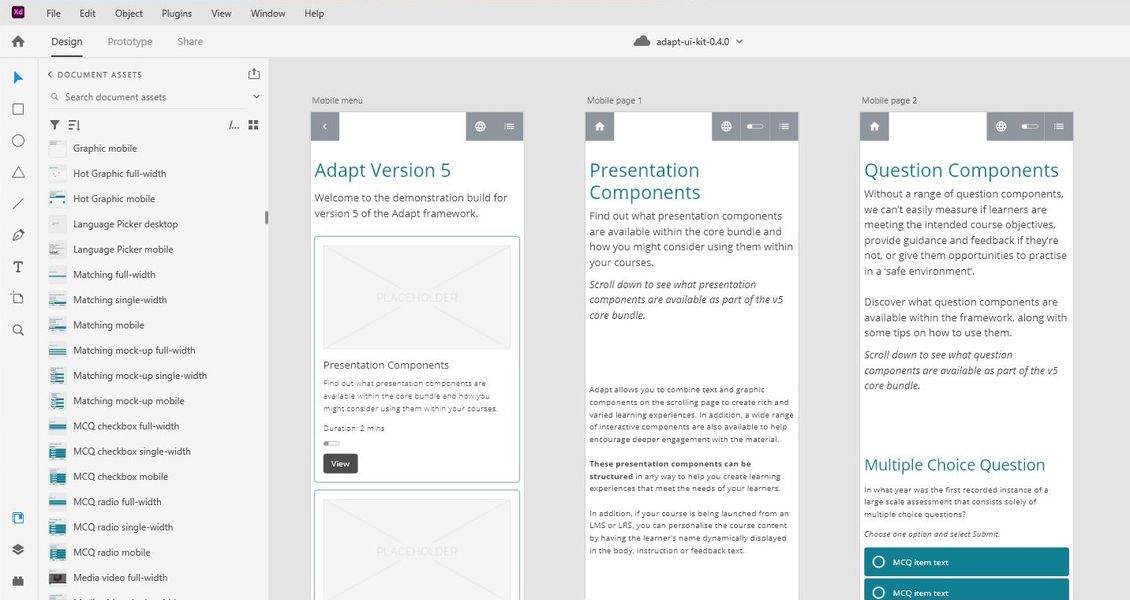 On This Page
Save time
I doubt you need to be convinced that saving time is key to enhancing productivity. A graphic artist sets herself apart by her creativity. Give her the tools she needs to bring life to that creativity. Prototyping applications and UI kits greatly reduce the grunt work needed to create a digital design. With the Adapt UI Kit, gone is the time spent drawing out standard Adapt components. With Adobe XD software, you simply drag components from the UI Kit onto the art board. Because the Adapt UI Kit makes use of component inheritance in XD, changing a color, changing the properties of a font, indeed changing most properties of a parent element will cause the modification to propagate throughout the design. Time dedicated to producing a solution can now be spent on improving the concept or creating alternate approaches or getting feedback or...relaxing.
Improve accuracy
Why does accuracy matter? You know your clients and stakeholders. What consumer doesn't want to know what they're buying? Getting approval on a design that incorporates a high degree of fidelity enhances your credibility and lessens the chances of miscommunication.
Clients aren't the only ones who appreciate accuracy. Your developer will save time and energy when the design is passed to him for production. The Adapt UI Kit uses measurements and styles based on the Vanilla, Adapt's default theme. This makes it easy to recognize intentional modifications and reduces back-and-forth with the art director. Essential when your developer or art director is a freelancer!
Increase collaboration in workflows
Adobe XD is ready from the start of ideation. XD is simple to use, and its interface shares much in common with other Adobe applications. There's no need to restrict its use to the design professionals. Early use of visuals by developers, scriptwriters, art directors, learning designers, and project managers maximizes input. And with "all hands on deck," obstacles are identified sooner and overcome sooner.
Improve your team communication with Sharing mode in XD:
Get comments on your design or prototype.
Present your design to stakeholders.
Share design specs with developers.
Invite users to test your functional prototype design.
So many uses
Adobe XD and the Adapt UI Kit combine to bring new possibilities to your workflow.
build mock-ups and prototypes
design new Adapt components
storyboard directly in prototypes
create visual style guides
share component libraries per project
create sales presentations for Adapt
The Adapt UI Kit is (not yet) available through ADAPT.tips
The Adapt UI Kit will be has been released in March 2023. It is produced and maintained by ADAPT.tips. To be notified of the release, subscribe to the Adapt Tips newsletter. Download the non-functional preview file to see what's included.
The Adapt UI Kit is made for use with Adobe XD, but it is not created, owned, endorsed, licensed, or sold by Adobe Inc. Adobe and XD are either registered trademarks or trademarks of Adobe in the United States and/or other countries.